I was first introduced to VisaDirect when working in Singapore, where Visa were promoting the service for businesses widely at the time.  This year, Visa is making the same service available in Ireland and across Europe, following successful releases in other regions.  The service has many benefits for businesses and consumers, but the main points are:
Send and Receive Funds Instantly ('Real-Time' Money Transfer service)
Available for Business to Business, Consumer to Business and Peer to Peer
Can be used for Bill Payment, sending funds to friends and family, paying small businesses, refunding for goods and services, loan and credit payouts, etc
Available for Credit, Debit and Pre-Paid Cards in Domestic and Cross-Border Payments
Being a Visa product, both sides need to have an account attached to a Visa product, such as a Debit Card attached to a Current Account.  Clearly a service like this relies on the majority of businesses and consumers being enabled for such a service.  For Ireland, Visa claim that 80% of cards will be enabled when launched.
Clearly, access to the service will make a huge difference to consumers and business, especially SMEs, freelancers and contractors, where payment for services is traditionally problematic or driven by cash in hand.  In addition, applications using this technology make it easier for third-parties to offer peer to peer payments without their own transaction and settlement infrastructure.
But, many banks are also issuing MasterCard products, so what about interoperability between card schemes?  Well, there is news of a deal between VisaDirect and MasterCard Send, allowing for scheme to scheme transfers, however this is not available at this time.
With VisaDirect, Tokenisation and PSD2, there has been a real widening of opportunities to build meaningful non-card applications on top of the card scheme and bank network rails in the last few years, with potential growing for international transfers using VisaDirect.  Third-Parties will certainly build useful services on top of these for consumers.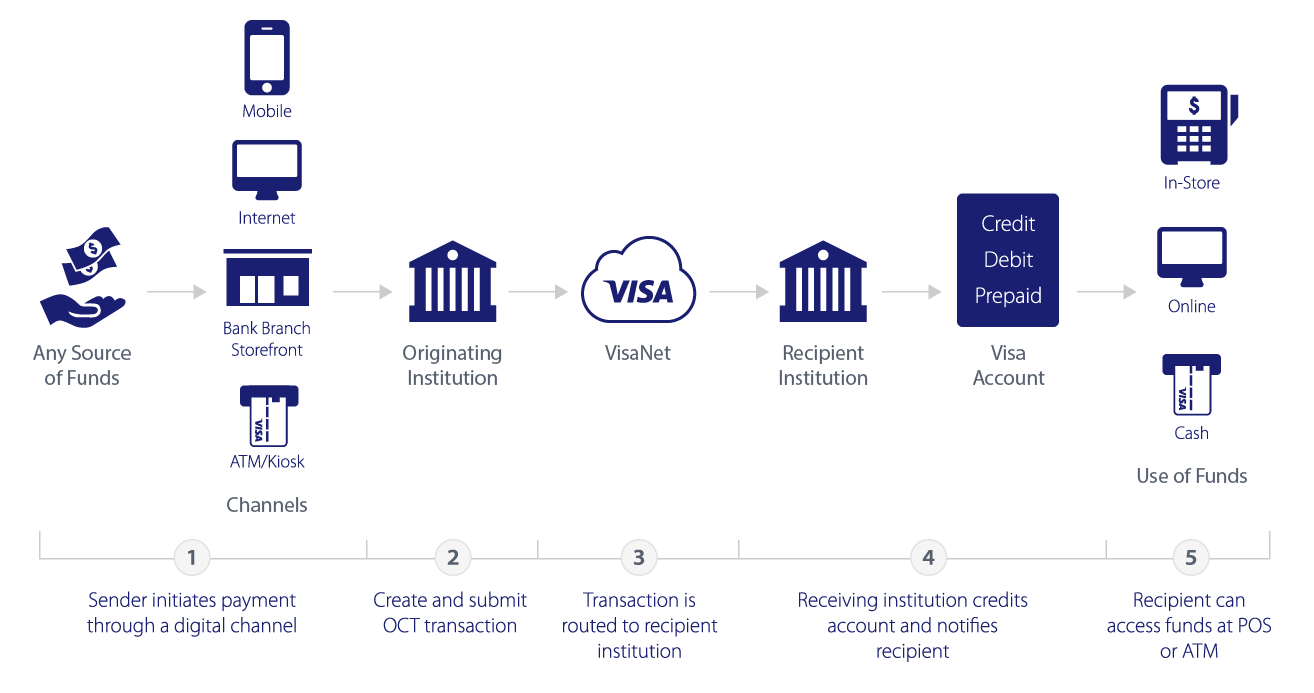 _
Think Payment is a consultancy and service provider based in Dublin, Ireland.  Since 2013, Think Payment has been involved globally in assisting businesses with financial technology, including Card Issuance, Acquiring, Terminal Applications, Merchant Integrations and Platform Development.  Think Payment is focusing efforts on new services, such as Tokenisation and VisaDirect, and brings practical experience in these areas based on successful projects in financial and retail services.
Contact Us to discuss how we can help you with financial and retail projects, including integration of your services to the VisaDirect APIs.